When I want to create clients, I serve people.
When I want to grow my business, I serve people.
When the world gets challenging, I serve people.

A few days ago, I created a pop-up Facebook group for coaches called Serve, Lead, Serve. In just over a week, the group had 1,594 members. A member of the group asked me: "How did you create a group of over 1,500 members in days???"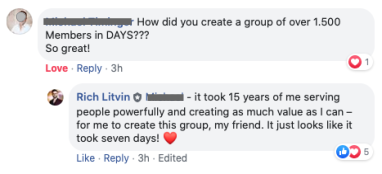 I replied: "It took 15 years of serving people powerfully and creating as much value as I can – for me to create this group, my friend. It just looks like it took seven days!" 
What are you Creating?
Another member of the group asked me: "Rich, what keeps you awake at night?"
The answer struck me immediately because I was a little surprised that it wasn't anxiety. I responded:

"What keeps me awake at night is ideas… I'm full of ideas. I have so many that I want to create, right now…"
There are two things you can be creating right now: 
OFFERINGS FOR FREE

– here are some of the things I have created at no charge…




15 minute confidence booster calls for clients. A Slack group for my private clients. Weekly Zoom calls for anyone who has ever been a client. A facebook group for coaches. And I created a

Playbook for Coaching in Challenging Times

. Plus, I've given all of my clients my cell phone number and told them they can call or text me, any time.




 

OFFERINGS FOR A FEE

– get creative… What could you create that you've

never

offered before? What do people need right now that you

don't

think you're qualified to offer? What are you

afraid

to coach or teach people on?

(Hint: get over yourself! Create it anyway. Then serve people and tell them about it).

   
Coaching in Challenging Circumstances.
We've got your back.… 
I place a really high value on community. So, I literally cried when we put our live Intensive on hold.

But then I wiped away the tears and I got … creative!
For the first time ever, I am running a Virtual Intensive, in a few days. For 21 days, I will be coaching and teaching you, live over Zoom. I will share my very best tools for thriving in challenging circumstances.
If you're a leader you have everything it takes to be a world-class coach or consultant. Even in challenging times. Actually, especially in challenging times… 
You will learn how to

enroll

high-performing clients.

And you will learn how to

coach

high-performing clients.

You will learn to

lead

groups and masterminds. They are one of the simplest ways to generate more revenue, as a coach.  

You will learn to

lead

transformational events online (from 10 to 100+ people)

You will learn to survive and

thrive

in uncertain times. 

And – even more importantly – you will learn to help

your clients

thrive. 
I have run Intensives for over a decade. I have built a community of extraordinary coaches and I'd love you to join us…  
I won't pretend that I have all the answers. I have felt overwhelmed and confused myself, in recent days.
But I will tell you that we are stronger together.
There are 27 seats left. The price is $1597 until midnight on April 22. After that, it goes up to $1897. And registration closes on April 30, unless we sell out before then.
Love. Rich
PS. Project Kairos just began but it's not too late to join me. You'll get the recordings of the calls you miss. Master Creating Clients in the last Project Kairos I will ever run. Sign up now, and you still get a gift ticket to my upcoming program: $100K Clients! 
PLUS, here are 4 more ways you can drastically increase your impact and your income: