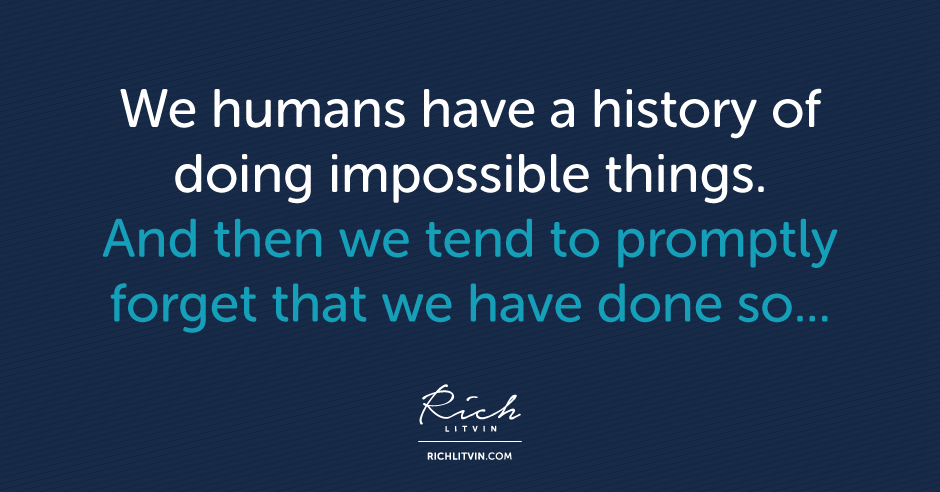 I remember the day my baby boys were born like it was yesterday. Monique's fingertips digging into my flesh as she gripped my arm and the nursing staff changed "Push!"
I cut the umbilical cord for both of my boys. And tears flooded my eyes each time as I held these helpless little humans for the very first time.
They truly were helpless and could literally do nothing for themselves. It seemed impossible for them ever to learn to walk, let alone talk!
And yet, over the years, they've learned to do both. They've also both learned to swim, they're both learning martial arts, Kaleo—now 5—loves to do origami, and Ellington—now 3—loves to stage live presentations of his favorite stories.
We humans have a history of doing impossible things. On a regular basis.
And then we tend to promptly forget that we have done so…
When I have a client who is considering taking on a goal or a challenge that seems impossible to them, I'll usually ask them to reflect back on their life:
"Have you ever accomplished anything that, before you did it, you had considered 'impossible'?"
For every one of them, it's true. So much of what we accomplish looked impossible at some point if we're willing to look back far enough.
My clients all thought the following results were impossible until they achieved them…
One of my clients now runs one of Sir Richard Branson's companies. When I first met her, she was a mother of three boys with a "crazy" dream of convincing him to write the foreword to her book and become President of her organization. After I coached her, he agreed to do both. And then he flew her to California to meet Oprah.

Christina found enrollment challenging and had made just $50,000 in her first two years as a coach. In her first two years working with me, she made  $449,000. And then I coached her in signing one of the leaders at NASA as her client.

An Olympic athlete I coached was literally world-class in her sport, yet she was struggling with internal blocks around money. I coached her around her limiting beliefs and with 24 hours of our first session together, she raised $40,000 in corporate sponsorships.
You know, back in 2009 I'd invested $9,000 to be in Steve Chandler's Coaching Prosperity School. It felt crazy at the time as I was running out of money and creating clients, seemed impossible to me.
But I learned some powerful new distinctions around creating clients. I applied them for the first time, and something clicked…. I billed $77,500 in 90 days.
I've been upping my game ever since. This photo of a dusty, four-year-old whiteboard that sits in the corner of my office shows what I wrote as my goals for 2011. These goals were SO "impossible" that I called them "miracles."
I didn't want just to make $480,000—which seemed impossible enough! I also wanted it to be FUN and EASY. I wasn't interested in creating the money for the sake of it or if it would drain me of energy.
Here's the thing: I didn't achieve that goal in 2011.
And I didn't achieve that goal in 2012.
But I did achieve it in 2013. And it really was fun and easy.
"What if making 7-figures could mean you have MORE fun, MORE freedom and MORE time with your family?"
In early 2014, I was on a bus in Liberia chatting to Jeanine Becker who is now a member of 4PC. She used to teach negotiation at Stanford and now coaches leaders at The World Bank. I told her that I'd been wondering whether or not to do what it would take to turn my business into a 7-figure business.
I told her that my top 3 values are: FUN, FREEDOM, and FAMILY. And I wasn't interested in making more money if it would have a negative impact on the amount of fun, freedom, or time I had with my family.
The job of a great coach is not to answer our clients' questions—our job is to help our clients upgrade the quality of their questions.
And that's exactly what Jeanine did for me.
She said, "It sounds like you think that making 7-figures would mean you have LESS fun, freedom and family time…"
I nodded, "Absolutely."
She continued, "What if making 7-figures could mean you have MORE fun, MORE freedom and MORE time with your family?"
"Oooooh!" I said. "Now, that's a GREAT QUESTION."
And I spent the rest of the year living into that question.
In early 2015, I got the numbers back from my bookkeeper. It turns out that 2014 was our first million dollar year in our business.
By the way, I never did get an answer to that question. Starting with the question was enough.
>> I'll share more of my stories and introduce you to the top performers in my community at our upcoming Intensive in London. Surround yourself with extraordinary coaches who will help you up your game. We have a track record in training and supporting the world's most successful and exclusive coaches.
Two years ago, I took on another Impossible Goal: Create five $1,000,000 clients.
An Impossible Goal is a place to come from, not a place to get to. So, the real question was who would I have to BE to create five $1,000,000 clients? And each day for two years I've been living into that question.
Whilst I don't yet have a million dollar client, I've noticed that our entire community has leveled up. Our Intensives are filled with top performers. And the caliber of people in our Deep Coaching Salons and 4PC is extraordinary.
6 Steps to Create Your Own Impossible Goal
Think of something you'd love to create that literally seems impossible right now.

An Impossible Goal is NOT an "I'll be happy when…" goal. Ask yourself, "Will I be fine whether I achieve this or not?" If it turns out that your life, your happiness or your relationships depend on you achieving it, it's not an Impossible Goal. It might be a useful project but not for the purpose of this exercise. Return to Step 1.

There's a fine line between excitement and fear. An Impossible Goal should place you right on that line. Excited enough that you'll take action, not too excited that you're not grounded. Enough fear to be a clue that you really want this, not so much that it causes you to panic and freeze.

Ask yourself what the

cost

of achieving this goal could be. And then add a few words to your Impossible Goal to address this. (Like my examples above: "I make $480,000—

and it's fun and easy

." "I have a 7-figure business—

that creates more fun, freedom and time with my family

."

Now, ask yourself this question every day about your Impossible Goal: Who would I have to

be

to make this happen?

Finally, find someone to

hold

this Impossible Goal for you—someone who believes in you. A coach, a mentor, a colleague.
Now it's your turn. Let me know in the comments below:
What's your Impossible Goal? What miracle would you love to create?
(I can't promise to reply to every comment, but I do promise to read every one of them.)
=====
I'm really proud of the community of prosperous coaches we've created over the past few years. This is a group of people who are up to big things. And over and over again, I hear how blown away people are by the generosity of this community.
Our community can be the place that holds your Impossible Goal for you.
Love. Rich
P.S. Join us at our London Intensive, this September. We've also just added an Intensive in Los Angeles in 2018.
PS. Project Kairos just began but it's not too late to join me. You'll get the recordings of the calls you miss. Master Creating Clients in the last Project Kairos I will ever run. Sign up now, and you still get a gift ticket to my upcoming program: $100K Clients! 
PLUS, here are 4 more ways you can drastically increase your impact and your income: