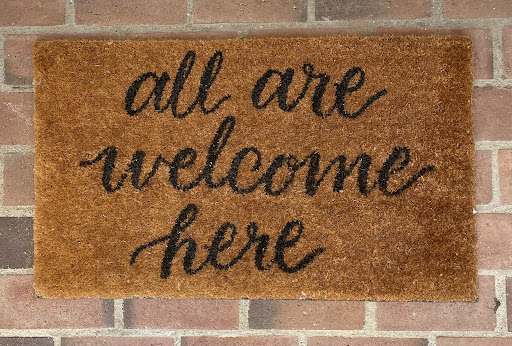 9 messages worth sending
When I moved into a new home, an assistant of mine bought me a gift. It was a doormat. On it were the words, "All are welcome here." 
It was quaint but something felt strange when I saw it on my doorstep. 
It took a moment but then it hit me. 
"All are welcome" isn't true for me… 
I'm a people person. But I'm also an introvert. 
How many introverts does it take to change a lightbulb? None. If you change the lightbulb, people might notice you are home and want to come over!
I love deep connection. I love my family, I've got great friends, and I love my community. But I also love alone time. It's how I recharge. 
I'm also not great at surprises. Truthfully, I don't want anyone showing up at my doorstep. 
I liked my doormat gift but I pay attention to the messages I'm sending. So it now sits by my back door. I figure that if you're out on my patio, you're already a friend and you're welcome!
9 messages worth sending
Make mistakes
No mistakes equals no risk and with no risks no business will fly. 
I've taught my team the power of making mistakes and on many occasions I've sent flowers to team members when they thought they'd screwed up. 
No urgency
I'm not interested in being an urgency-based business. I don't care to be known for the speed of our email response time. 
A CEO who spends all of their time checking email is like a CEO from forty years ago, running the business by sitting in the middle of the mail room. 
No emergencies
I tell my clients that if they have an emergency, they should call 911, not a coach. 
I'm not interested in helping people solve emergencies. I want to work with them on upstream thinking, so they can live a life of creativity and impact, not a life spent solving problems. 
If a client has a problem, I'm more interested in solving the cause of the problem than the effect. 
Big and messy
In 4PC our motto is, "You can never get too big. And you can never get too messy." 
Bragging is a lost art and 4PC is a safe space to share how proud you are of your accomplishments.
And in a world where everyone is constantly Instagram-ready, messiness is an asset. So, 4PC is a "brave space" to make mistakes and screw up. 
That includes me. I don't want to have to add pretending to be perfect to my To Do list. 
Reassuringly expensive
Stella Artois is a Belgian beer that ran an ad campaign in the UK from 1982 until 2007. It was an imported beer, so it wasn't as cheap as British beer. But they turned a potential liability into an asset, with the slogan, "Reassuringly expensive." 
Great coaches can charge a premium for their services when their clients trust them deeply. 
High fees help coaches filter for clients who are more focused, who take rapid action and who are committed to their long-term success. 
No refunds
I've had a No Refund Policy for over 12 years. You see, I love people who play full out. People who live the distinction, "Hell Yes. Or Hell No." – nothing in between… 
A no refund policy draws out true commitment. It ensures your people show up powerfully. 
I Coach Kings
My clients are extraordinary women and men. But I look for the "King" in everyone I meet. 
Money is the most perfect expression of my creativity
I've written every day for over a decade. I've run over 50 Intensives but I've never run the same event twice. I never stop creating. 
Talent hotbeds
Talent hotbeds are high performance environments for top performers. I've been creating and curating them for over two decades. 
A talent hotbed is based on the premise: If you want to go fast, go alone; if you want to go far, go together. 
They create the conditions (and the safety) for members to make mistakes and pay attention to those mistakes. They are brave spaces that encourage members to struggle – or even fail – in order to build skill, tenacity, and greatness.
What messages are you sending?
What messages do you want to be known for?
Love. Rich
PS. Sign up for my Coaching Excellence Masterclass on August 10. You will learn the frameworks and mindset shifts that the top 4% of coaches use to thrive in life and business. I will share powerful distinctions and key frameworks so you can assess what you need to get to your next level. There's no charge for this Masterclass – you just need to commit to show up and to apply your insights.
PLUS… Whenever you're ready, here are 4 ways you can increase your income and impact as a world-class coach:
1. Join me on How to Coach a Superhero, to learn how to coach highly successful clients and do high-level group coaching. Or join me on Money. Money. Money, to handle your limiting beliefs around money, and become financially fearless. There's a special price to join both…
2. If you want your success and your thinking dramatically re-framed, join me on the 4PC Accelerator. It's a once-a-year opportunity to join the members of 4PC (my private club for top performers) at an 8 day training – to drastically increase your influence. 
3. Join Project Kairos and spend a year being mentored by me – to learn the skills, mindsets and strategies needed to create a powerful and profitable coaching practice. 
4. Daniel Coyle, author of the Talent Code, says: "Seek out coaches who are authoritative, who know their stuff and take charge. A little scary is good." 
If you are ready to be pushed and stretched, intellectually and emotionally – to drastically expand your business and your life – there are 3 very unique ways to work with me one-on-one: (1) Thinking Partnership, (2) Protegé, (3) Concierge Trusted Advisor. Apply for an interview. [Note: Investment from $47K to $158K].