Business can seem hard. Marketing can be confusing. And creating clients can feel overwhelming. 
But it doesn't have to be that way. 
What if creating clients could be effortless and fun? 
It can. 
Client creation becomes effortless when you turn it into a system (so you always know what to do next). 
And client creation feels fun when you turn it into a game (so needing a client never again impacts your professional self esteem). 
I want to teach you two of the games I've taught to thousands of coaches and consultants. And I will help you to understand when to use each:
The 100 Powerful Coaching Conversations Challenge (100PCC)

The 90 Day Money Game (90DMG)
The key to each of these is in the final word. When is a game, and the other is a challenge. One is designed to reduce pressure, the other is designed to increase pressure. Both are designed to remove stress, to be fun, and to increase your perseverance…
Your willingness to persevere in the face of challenge is the true secret to longevity and success as a coach. So, you need to build your perseverance muscle.
1. The 100 Powerful Coaching Conversations Challenge
In 2008, I was known as "That Confidence Guy." Don't laugh! I'd spent so much of my life lacking confidence, faking confidence and studying confidence, that I was becoming known as someone who could help you build confidence—from the inside out.

I had the idea of running a series of pro bono "Instant Confidence Sessions." I began to tell people about them and they signed up. And each time I served someone, I ended the conversation by asking them to invite someone they know to have a session with me.

The ball began to roll, far quicker than I could have imagined. And within 3 months, I had run 400 sessions! 

The results of this experiment were different than I had predicted. First, I only signed a couple of clients, despite serving so many people. But second, I massively increased my professional self-esteem. By the end of this time, I knew—in my bones—that I was a good coach. 
THE RULES
Fill your calendar with 100 Powerful Coaching Conversations in the next 30 days. (That's it. There's only one rule!)
This does not mean you need to coach 100 people in the next 30 days. It means you need to schedule 100 Coaching sessions in that time. You can schedule them out over the next 90 days, if you need.  
Reasons to take on this challenge:
(a) You are new to coaching
(b) You've never had a paid coaching client
(c) You are at the early stages of growing your coaching business
If you are in one of these 3 categories, I recommend that you do not mix this with The 90 Day Money Game. Your only mission should be to CONNECT with fascinating people and look for ways in which you can SERVE them powerfully. Don't mix this in with trying to 'get' coaching clients or trying to make money from coaching. 
 (d) You're changing the nature of your coaching practice. Eg. you want to coach executives or entrepreneurs and you've never coached them before. 
This is an awesome challenge if you already have a full (or close to full) practice but you are transitioning to a new kind of client. And if you are in this situation, you CAN mix this with The 90 Day Money Game. I recommend time-blocking, though. Give yourself a fixed time period (eg. Tuesday mornings or all day on Thursdays) in which to reach out and connect with fascinating people in the new arena in which you'd like to coach. And then spend the other 80% of your time enrolling and serving your current clients.
2. The 90 Day Money Game (90DMG)
This is hands-down the best method for creating clients that I have ever come across.
It's called The 90 Day Money Game for a reason. It works best when you play and have fun! 
Your Mission:
Mission #1: Fail, make mistakes and screw up. Seriously, the more mistakes you make the more likely it is you'll be successful down the road.
Mission #2: Be unattached to outcome. In this game, the word NO is an acronym. It stands for Next One. Learn to love the NOs.  
Mission #3: Be in action. (This is what I call, "Serving your ass off!")
The Steps:
Step 1: Pick a number. How much money would you like to make in the next 90 days? Write it down.
Step 2: Multiply that number by three. This is how much money you will need to make in proposals. Eg. If you want to make $20,000, in the next 90 days, you'll need to make $60,000 in proposals.
Step 3: Draw a picture. Create a really fun picture to represent the proposals you make, the NOs that you hear, and the money you create. Really go for it. Make it fun. Draw a palm tree to represent the island you'll travel to, or the new bedroom furniture, or the new car that you'll purchase. Turn your image into a grid, or boxes that can be checked off, or filled in.
Step 4: Connect – Invite – Create – Propose. Practice The Prosperous Coach Approach. Connect with people. Invite them to coaching experience with you. Serve them powerfully. And—if it feels like a great fit—make a proposal. 
Step 5: Track your numbers. Track your NOs. 
Step 6: Celebrate each Proposal. (The more money you make in proposals, the more money you'll generate in income).
Step 7: Celebrate each NO. (Yes lives in the land of no). 
Repeat. Persistence is key. Fun is key. Loving the proposals and loving the NOs will change everything.
If you'd like to watch a 7 minute video of me explaining the 90DMG, click here.
One of my clients loves playing with watercolours. She had just watched the movie, Under the Tuscan Sun, and was dreaming of a trip to Italy. So she created her tracker set in the Italian village of Positano, complete with the Vespa she really wanted to drive! You can see that her 90 Day Money Goal was to make $180K in Proposals, because she wanted to make $45K in income: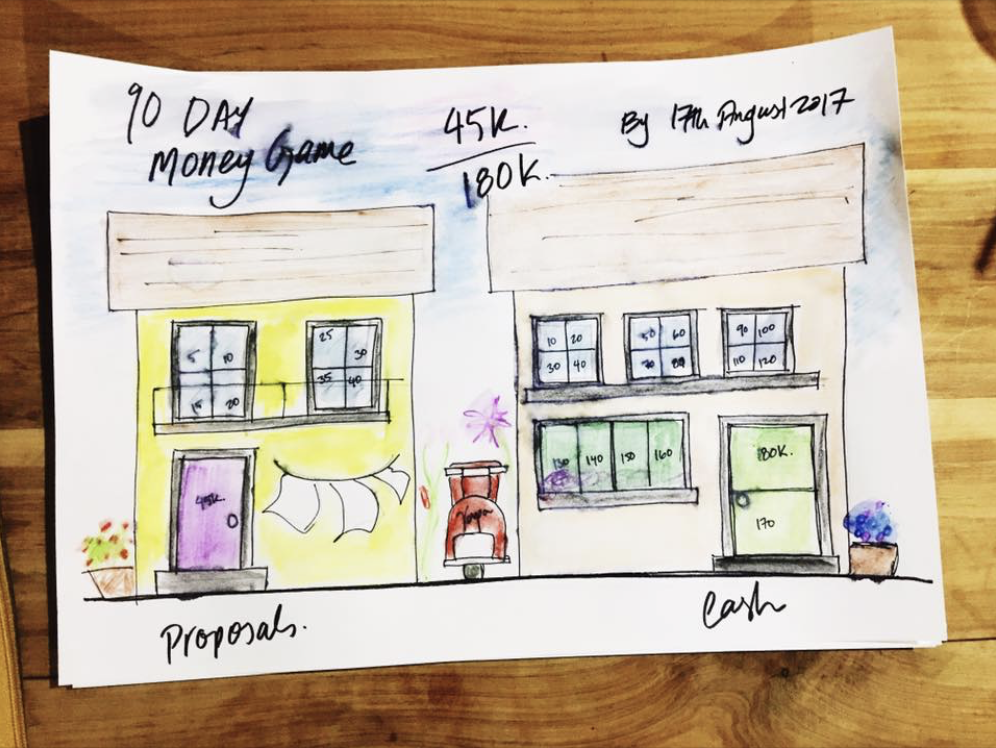 Here are some of the other visuals my clients have created over the years, to play this game.
Reasons to play the 90DMG:
(a) You want to build your coaching practice
(b) You are ready to lean outside your comfort zone
(c) You want to increase your coaching fees
(d) You want to make money. And have FUN doing it. 
Ironically, you can't be attached to a time-frame for the 90 Day Money Game. 
I've taken coaches through The 90 Day Money Game many, many times, for over 12 years. The majority of them made money playing it but there is no guarantee that anyone will make money during those 90 days. 
What I have seen—again, and again, and again—is coaches who play this game report making money for months and even years after they've completed it, as a direct result of the people they served during those 90 days. 
They serve their ass off. They change people's lives. And they practice the skills to generate a great income as a coach, for the rest of their life. 
Reasons NOT to take on this challenge:
(a) Don't play this game if you're not sure whether or not you'll be able to pay the rent at the end of the month. If that's the case, you need a job, not a game. Seriously. Take care of your family and your responsibilities, first.
(b) Don't play this game because you want to prove to your wife, husband, lover or mother that you can finally make it as a coach. This is a game about improving yourself, not proving yourself.
Important: You can't play this game if you aren't willing to focus on serving others. 
The most important question of the 90DMG
It isn't: How much money do you want to make?
It isn't: How much money do you want to make in Proposals?
It isn't: How much are you willing to serve? (Although that's a great question).
The most important question you can ask yourself is: What are you willing to struggle for?
Most people want to be rich without taking a risk.
They want to be successful without making a sacrifice.
And they want to make money now, without the delayed gratification needed to accumulate true wealth.
That's not a game you'll win.
The only way to win the 90DMG is to be willing to fail (spectacularly) and to have fun. Which is really the secret to life!
If you are not willing to make mistake after mistake after mistake, this is not the game for you. 
If you are not willing to fail at something at least once a week for 90 days, this is not the game for you.
I don't want you to feel comfortable.
I want you to take risks, serve your ass off and collect more NOs than you've ever heard in your life.
Which game are YOU going to play?
Love. Rich
PS. Project Kairos just began but it's not too late to join me. You'll get the recordings of the calls you miss. Master Creating Clients in the last Project Kairos I will ever run. Sign up now, and you still get a gift ticket to my upcoming program: $100K Clients! 
PLUS, here are 4 more ways you can drastically increase your impact and your income: