There are 5 types of people in the world… 
They each have a number—from 1-5.
The 1s will hate you, whatever you do. Forget about them: they can't be moved. Fortunately, they're a tiny group.
The 2s are just not into you. They are almost as immovable as the 1s but they won't spend so much time actively criticising you.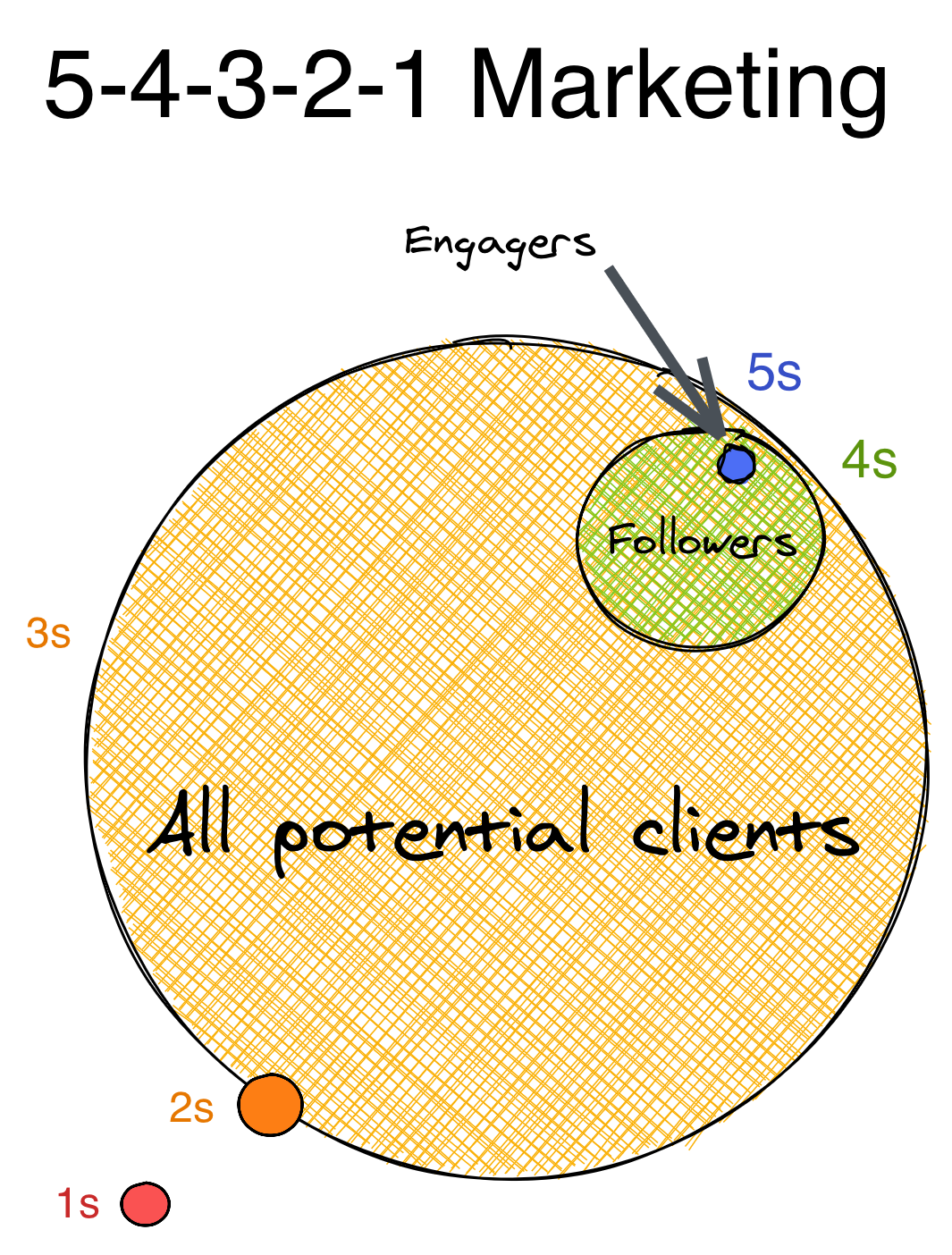 The 3s are a large group of undecideds. It's tempting to spend a lot of time and energy reaching out to them. They are easy to attract but very hard to hold onto. 
You'll be able to attract them, especially by lowering your prices but you'll pay a high price—in time, energy and money—as you try to hold onto them. Stop targeting them. 
The 4s like you but require more reasons to work with you again. They are fans who can sometimes help move the 3s (the undecideds)—with the buzz they create.
The 5s are a small group but they are your loyalists. They'll invest more and more over time. They're your Advocate Marketers. They'll lead your cheering section—especially if you help give them a compelling message to share. 
5-4-3-2-1 Marketing Mistakes
Get hurt and upset when 1s criticize you.

Well, of course you'd be upset, right? Here's the thing, the 1s can't help it. It's their job to criticize you. 

Spend 80%+ of your time, money and energy trying to attract and convert 2s and 3s.

Well, of course you'd spend most of your time focusing your articles and videos on your 3s, right? You're hoping to turn them into raving fans. 

Spend almost no time, money or energy on delighting and astonishing your 5s.

They're your dream clients—already working with you—so why spend time marketing to them, right?
How to use 5-4-3-2-1 Marketing
Job #1 is to polarize people—to turn them into 5s or 1s. The 5s will love you forever, the 1s will leave you for ever. If you're not getting criticised regularly, you're marketing to 3s. You'll get 'likes' on social media. You just won't get clients.

Job #2 is to put 80% of your attention on your 5s. And 20% of your attention on your 4s. By focusing on your 5s you'll create more of them.

Write and teach to your 5s but share your articles and videos with your 4s and 3s. Focusing on your 5s becomes a filter and some 4s and a handful of 3s will want to up their game and join you.

Create Advocate Marketing opportunities—find ways for your 5s to mingle with your 4s and 3s. Eg. offer gift tickets for dream clients to attend events for potential clients. 

Use the Superhero Effect. Share stories about your 5s with your 4s and 3s. These stories have potential clients want to be your dream clients. 
What strikes you most about 5-4-3-2-1 Marketing… What do you need to do more of? What do you need to do less of? And what do you need to stop completely? 
Love. Rich 
PS. Join me on one of my upcoming Deep Dive coaching experiences:
Find Your Mission:

The Los Angeles Deep Dive

will help you develop a mission that's powerfully aligned with your values. 

Serve Profoundly:

The London Deep Dive

will help you drastically increase your influence so you can serve more people than you can possibly imagine. 
Spaces are limited to maintain an intimate, high-impact experience. Reserve your spot today.
PLUS, whenever you're ready – here are 4 more ways you can drastically increase your income and impact as a world-class coach…