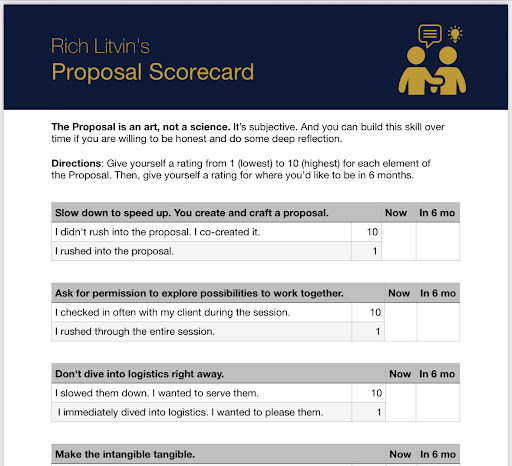 Discover the #1 Proposal Mistake Coaches Make and How to Avoid It
I proposed to my wife ten days after I met her. It was such a crazy thing to do that I had literally no attachment to her saying yes. Maybe, as I look back, that was part of the reason she said yes!
When it comes to creating clients, making a proposal is one of the scariest things for most coaches. 
Do you ever secretly try to avoid discussing a proposal with a client?
Do you ever say, "I'll email you a proposal later…" so you can skip an in-person proposal conversation?
When you hear the words, "That was great. I'll be in touch…" are you ever secretly relieved you don't need to have a proposal conversation? 
Why should you pay attention to me? I've been practicing and teaching client enrollment and client astonishment since 2007. I've written a book on the topic that has been in Amazon's top 20 books on coaching, every single month for the past decade. There's a reason I've built an audience of over 45,000 coaches and taught and trained many of the most exclusive – and successful – coaches on the planet. 
So, ignore all the ads in your social media feed promising to get you "high ticket clients." I can assure you of one thing:
No high-performing, high-fee client was ever created outside of a powerful conversation. 
If you want extraordinary clients, you have to master the art of the proposal. You can build this skill over time if you are willing to be honest and do some deep reflection. 
Today, I'm going to teach you to master this skill set in three steps:
The #1 Proposal Mistake

The 9 Elements of a Powerful Proposal

How to Create a Powerful Proposal
1. The #1 Proposal Mistake
The fundamental mistake most coaches make is to assume that a proposal is the starting point to framing how you'll work with a client, when it is actually an end point.
You see, a proposal should be a summary of a powerful conversation that you have completed. It's not a way to avoid a powerful conversation. 
A proposal is an agreement of a way to work together that you've already co-created. 
2. The 9 Elements of a Powerful Proposal
I've created a scorecard to help you rate yourself on the 9 elements of an outstanding proposal. I'll break it down for you now but click here to download the scorecard and take it for yourself. 
Never rush into a proposal.

It's something to be co-created with your client.

Make your proposals permission-based.

Constantly check in with your client. Even if you're designing a coaching program to challenge and provoke their thinking.  

 

Put logistics last.

Design a coaching program that's edgy, uncomfortable and challenging. When you're in agreement on what will serve them best, only then do you get into the details.

Make the intangible tangible.

The truth is that great coaching can be summarized as, "We will talk and your life will drastically change." But you need to give your client a clear way of explaining how you'll work together, with tangible results or a clear return on investment. This can be related to financials, skills, or emotions. Eg.

You'll learn how to 2X your profit… You'll develop IP that has you become a known thought leader in your field… You'll build the confidence to take risks and innovate so you stand out as a world-class leader…

Know your coaching menu.

You need to feel confident explaining the ways people can and do work with you.

Know your numbers.

You need to have practiced saying your fees out loud so often that they roll off your tongue like your phone number.      

Honor the "No."

Most coaches practice outdated sales techniques like learning to "handle objections." Don't do that. In this day and age it's astonishing to meet someone who puts serving over selling. 

Challenge the "Yes."

Most coaches are so excited to hear a yes that they miss the clues that it's not a true yes, or that the client might need to check in with their spouse, business partner or boss before they can really say yes. Don't do that. In this day and age it's astonishing to meet someone who slows you down, rather than rushing you to sign up. 

Lead.

Be willing to lead, challenge, provoke and ask hard questions, rather than trying to please the client, or follow

their

lead.
3. How to Create a Powerful Proposal
A powerful proposal starts with a powerful coaching conversation.
Step 1: Coach your client powerfully. Give them a full experience of your coaching. Hold nothing back.
Draw out their secret dreams and their hidden desires. Discover their doubts. Uncover their fears. Find their gifts and the dark side of their gifts. And when you think you're there … go deeper. 
Challenge and provoke their thinking. Push them to dream bigger. 
Step 2: Go quiet at the end of the coaching experience. Say nothing. Wait for them to ask what it looks like to work with you.
If you'd really love to work with someone, you can look them in the eyes and say, "Would you like to hear a little bit about how to turn those dreams into reality?"
Beware: if someone says, "Can you send me a written proposal?" that's often code for, "You didn't serve me powerfully enough. I don't want to work with you but I'd rather not say that to your face…" 
In those moments, find a way to serve them deeper or say what you've secretly been avoiding saying. You've got nothing to lose. "Hang on a moment. There's one other thing we need to address…" 
Or be clear in yourself that they're a No For Now. You can reply, "I only send a written proposal as a summary of a discussion of your goals and what's holding you back. We'd need a follow up conversation for me to capture that. If you're not interested in coaching at this moment, we don't need to do that…" 
Then pause. Say nothing. Wait for their response. If they're complete they'll tell you. If they're still interested, they'll tell you.
When a potential client says, "Can you send me a written proposal?" most coaches are secretly relieved.
They head off to spend hours putting something complex in writing.
Remember: A powerful proposal is a summary of a powerful conversation. It's not a way to avoid a powerful conversation. 
By all means, send a client something in writing. But not to sell your coaching for the first time. The time for selling was when you were giving them an experience of your coaching…
Step 3: When it's proposal time, don't go straight to logistics, start with a plan to turn their dreams into reality. 
Let them know you get them. Let them know you can help them. Outline a plan to help them with their dreams and their fears. 
If – and only if – they tell you that they feel understood and they want support, it's time to talk logistics.
Outline your coaching program. Then look them in the eyes and say, "To work together will take X months and cost $Y0,000."
Here are 3 videos of me teaching, coaching and role playing to give you all the skills you need to craft, or uplevel, your own proposals: 
The Art of the Proposal

– This video has had 50,000+ views for a reason. Many coaches in our community have watched it several times. I literally take you almost word for word through how to craft your proposal. 

Justify Your Fees to Me…

– What do you do if a prospective client asks you to justify your value or your fees? Watch me role model how to handle this challenge in just 3 minutes.

How To Craft A Powerful Proposal

– Watch me role play how to craft a proposal, in real time. I'll take you through the 5 parts of a proposal that allows a client to be a Hell Yes and gives them a tool to enroll their spouse, boss, or business partner. 
If you'd like to master these skills and be able to apply them for the rest of your life, I've just launched the eighth cohort of our flagship program, Project Kairos. Over 200+ people have been through this program since it first began. 
Learn with me for 8 months, in PK8, to profoundly increase your confidence – and belief in yourself – as a world-class coach:
Dramatically increase your professional self-esteem, so you are trusted by great clients…

Massively increase your skills at enrolling high-performing, high-fee clients…

Drastically increase your ability to coach clients who are more successful, intelligent and wealthy than you…
This is the coaching century. Great clients need you more than they know and more than you think. 
You've got this. And I've got your back. 
Love. Rich
PS. It's not too late to join Confidence In Action, you'll receive the recording of the first live call, plus three bonus recordings: (1) How to Raise Your Fees. (2) The 5 Coaching Sales. (3) The Power of Commitment.
PPS. Take my Elite Coaching quiz today and uncover the #1 barrier to your coaching success.
PLUS, whenever you're ready – here are 4 more ways you can become a world-class coach: