Leadership From the Inside-Out
We create events run by leaders at every level.
For years people have asked us, "How do you create such amazing Intensives?"
We have run over 24 Intensives in the past 8 years and we've sold out all but one. We've had people return to attend Intensives again and again. And more than 50% of our attendees hear about what we do by word of mouth.
There's a reason for this.
It's been very conscious.
We create events run by leaders – at every level.
But we didn't think this was teachable.
Until now.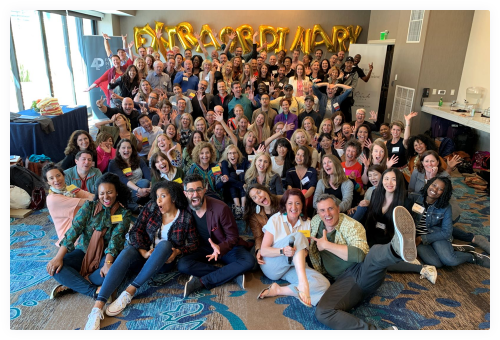 A leader doesn't have to be in the front of the room to have a profound impact
We call our team of coaching leaders the Source Team because months before anyone even steps into the room at the Intensive, our leaders are crafting the experience they will have.
Through their being, they hold space for transformation at our live events.
Through their leadership, they draw out the transformation of our community.
And through their love and connection, they draw out the rawness and vulnerability that are the secrets of deep transformation.
They literally source the experience of everyone who attends an Intensive.
Would you like to join our team? 
We are currently accepting applications for the Source Team at the April 2022 public intensive.  Click here to see intensive details and location.    
We are offering an inside-out leadership experience.
This is a unique opportunity to dive even deeper into the mastery of your own leadership, to uplevel your team building skills and to be intimately involved in delivering extraordinary transformational experiences – for 5, 10 or 250 people.
And you will transform from the inside out.
Learn how to lead with power and clarity

Experience leading others into self-mastery

Build a deep understanding of your impact on others

Build your ability to transform clients with confidence

Develop a strong and powerful vision for your future

Learn how to make decisions in the midst of challenge

Understand how to use your "gut check" in the moment

Learn how to amplify your presence, without saying a word

Bring all of this back, to make a deep impact on your own business, team and clients
Get an exclusive look behind the scenes of a Rich Litvin Intensive

Understand how Rich enrolls and builds a high-level team of leaders – many of whom are at the very top of their field

Experience small group coaching by Rich and his Faculty

Get a behind-the-scenes look at the planning experience of a high-level, transformational event

Learn and experience the power of transformational leadership

Learn what happens when leadership goes unchecked (hint: disorder, chaos and over-helping!) – and understand how to prevent it

Learn how to set context and create the container for leadership

Gain a clear understanding of why enrollment never stops
If you show up fully, play full out, and apply your learnings and insights, you will 10x the value of your investment.
Varian Brandon

"EVERYTHING I learned before, during and after serving on the Source Team was the foundation for my own transformational events. Each one has sold out and grossed over 6 figures!

There is absolutely no way I could produce such spectacular events if it were not for what I have learned and continue to learn as part of the RLI Source team.

If you want to learn and embody how to create transformational events...say Yes!"
David Taylor-Klaus

"Alchemy, that's the lesson I came away with from being on the Source Team - stop trying to figure it out, feel it out, and just lead. When I stepped back into working with everything that was there and creating what wanted to be created, that's when the leadership happened, that's when the impact happened, that's when it was in flow."
Marion Haneca

"Being member of the Source team has been an eye-opener and game changer for me. Creating successful transformative intensives is not a coincidence.

It's a well planned game plan, where trust, vulnerability, energy, intention, humanity and love confluence into something you can't describe but have to experience to understand it.

As source team member you have an intensive on steroids, which provides plenty of opportunity to become comfortable in the uncomfortable and step up your leadership."
Niiamah Ashong

"After serving on the Source Team and leading a group of 10 really powerful participants, I decided to double the size of my group program and create my own 2-day experience"
Luisa Molano

"Watching Rich coach showed me how simple and powerful coaching can be. I have been holding back, and I won't do it any more. Watching such a wide range of coaches do their thing and having 21 days to gently take it all in was incredible!"
What's included in your leadership experience:
Coaching with Rich + Team Connection + Ask Me Anything Sessions
Two Source Team group coaching calls with Rich – 1 before and 1 after the Intensive.
Four Source team connection calls (experience first hand how to build a powerful team)
4 Source Team group coaching circles with Rich during the 9-day event.
Two "Ask Me Anything" sessions with the Rich Litvin team on Transformational Events.
Apply to join the April 2022
Source Team
WARNING: There's no curriculum. No reading list. There's no grade or certificate. And this is not a "workshop" where you'll leave with a binder full of notes. This is an immersion experience.

Your investment is $5,397 which includes your seat on the Source Team and admission to the intensive.

You must apply to be a member of the Source Team.
Yes! I want to apply for the Source Team
IMPORTANT: This opportunity is only available if you have attended a Rich Litvin Intensive (at least once) as a participant