It was a cool, sunny day in April 1991, when Gerald walked out of the Royal Albert Hall in London. His chauffeur was waiting for him. 
The applause of a prestigious group of Britain's top business leaders was still ringing in his ears. 
They had laughed loudly at all of his jokes. 
Gerald was flying high. 
He was 43 and he'd built a business with 2,500 stores across the UK and the US. 
He was the head of a billion dollar company.  
And this was back in the 1980s…
None of Gerald's success had been predicted.
When he was just 13 years old, he was expelled from school. He started his career working in a market stall. 
He went on to build up an extremely successful chain of jewellers.
During the 1980s, most jewelers shops were dark, dull and designed for wealthy people to purchase expensive items. 
Gerald shocked the industry. 
His stores used loud, bright posters. They promoted cut-price bargains and offered low price jewelry. And it was a hit. 
The necklaces and rings they sold were cheap and a little tacky but customers loved the low prices and for the first time ever teens and twenty-somethings were interested to purchase jewelry. 
And then Gerald told two jokes to a group of business leaders, that changed his life for ever. 
"People say, 'How can you sell this for such a low price?' I say, 'because it's total crap.'"
In another line from his speech, he said that one of his sets of earrings was "cheaper than a prawn sandwich but probably wouldn't last as long."
As he was driven back home, Gerald had no idea that when his jokes would be reported in the press the next day, the story would wipe two thirds of a billion dollars off the value of his company. 
There was no way he could foresee that, within a year, hundreds of his stores would be closed and thousands of his employees would be fired. 
And Gerald had no clue that within 18 months of that drive home, the CEO he would appoint to turn the company around would call him into his office to fire him, in turn, from his own company…
The New York Times Rule
The New York Times Rule says, "Don't do anything you wouldn't want published on the front page of the New York Times." 
And the phrase "doing a Ratner" has entered the world of business as an example of how leaders should think before they speak. It suggests that you say nothing publicly that could be used to harm your business. 
But there's a deeper lesson here than, "Be careful with your PR." 
Gerald Ratner actually thought his products were cheap crap. The jokes he made that day were him saying out loud what he said privately. He was being authentic. 
Matt Barrett is the former CEO of Barclays Bank. He revealed at a hearing of the British Parliament that he would not use his own bank's credit cards. He said, "I do not borrow on credit cards. I have four young children. I give them advice not to pile up debts on their credit cards." He was also being authentic.
The Oscar-winning actress, Dame Helen Mirren, was the face of the cosmetic giant, L'Oreal's, "Age Perfect" moisturiser range. She was appearing as a brand ambassador for L'Oreal at an event in the South of France, when she said out loud that moisturiser "probably does f**k all." She was definitely being authentic.
Your words create your world
It takes years to build trust among your clients and your community, but that trust can be blown in a few words. 
Ever since I founded my business, I've been very clear that we only ever use the same language inside the business as we use outside the business. 
Here are 4 powerful ways to use language to build your business:
Don't create content. Fascinate people. 

Don't build an email list. Create a community. 

Don't build a marketing funnel. Create a client journey. 

Don't look for prospects, seek out ways to serve potential clients.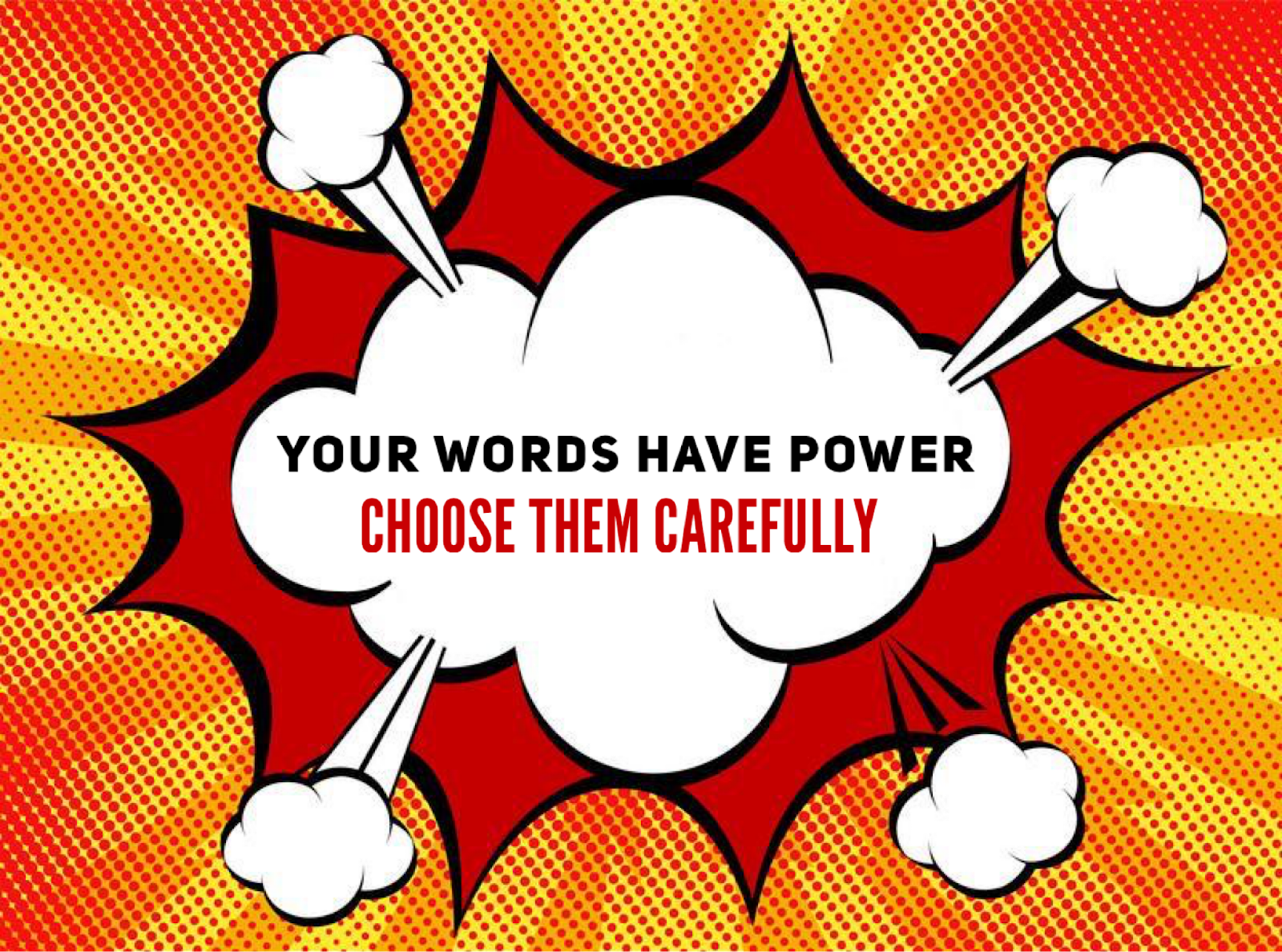 1. Don't create content. Fascinate people.
I detest the idea of "creating content." I never create "content." 
The word content has more than one meaning. It can refer to the material you are creating—books, articles, videos, etc. 
To feel content also means to feel satisfied with the present circumstances. 
I hope no one ever feels "satisfied" when they read, watch, or listen to what I've created. 
When I create, I am doing my best to fascinate people. I'm intending to challenge their thinking—by provoking and evoking (stirring them up and drawing them out). 
I don't want people to "like" what I create. I want people to take action based on what I create. 
I don't create content. I fascinate people.
2. Don't build an email list. Create a community.
My emails are read by over 11,000 people. I have a Facebook group with 4,500 active members. And I'm followed on social media by 12,500 people. 
But you'll never hear us talking about an "email list" or "social media" at my team meetings. 
We talk about our community. 
Email is just one of the ways we connect with our community. 
The size of an email list is a vanity metric. You can literally buy an email list with 100,000 people on it, right now. But if they're not your people, if they don't engage with you, or take action based on your challenges or requests, that email list is just a statistic. 
I'm very proud of my community. I spend a great deal of time creating ways to support my community. 
When you think in terms of an email list, communication is mostly in one direction and it's top down. 
When you build a community, they will connect and meetup, without you being present. When you draw together interesting people, you'll be top of mind, without being top down. 
For years, dozens of mastermind groups have got together around the world because they first met at one of my Intensives. 
I use email to connect with my community but I have also created private online communities, like the app we use for our Intensive, and the Mighty Networks groups we use for 4PC and Project Kairos. 
Members of my community regularly meet up live, as well as virtually, all around the globe. They interact on my online groups while I'm asleep. 
I don't have an email list. I create community.
3. Don't build a marketing funnel. Create a client journey.
There are thousands of articles online with titles like, "How to Build a Marketing Funnel that Converts." 
You'll never hear my team talking about a marketing funnel. 
We spend our time thinking about the Coaching Journey. 
The Coaching Journey is what we call the adventure that our clients are on. We have clients who are senior executives and entrepreneurs who have never had a paid coaching client in their life. We have clients who have just begun their professional coaching career. And we have clients who have been coaching for two decades or more but who—like us—have a ceaseless desire to grow and to make an impact. 
We spend our time creating programs and resources to support coaches and leaders on their Coaching Journey—from struggling to striving, and then all the way to exponential success. 
We're not afraid to do marketing. You see, the phrase, "If you build it they will come," isn't true. 
If you build it—and you tell people about it—they will come!
And we're not afraid to sell.  
But we sell by serving and creating value for people. 
I don't have a marketing funnel. I take people on a coaching journey.
4. Don't look for prospects, seek out ways to serve potential clients.
Imagine how it would feel if you overheard a salesperson talking about you as a prospect. Feels icky, right?
You'll never hear me or my team talk about prospects. We refer to people in two ways—as clients or as potential clients. 
We don't do prospecting, which literally refers to digging up dirt. We seek out—and draw out—the potential excellence and ability in everyone we meet. 
I don't look for prospects. I seek ways to serve potential clients. 
Abracadabra
The word abracadabra comes from Hebrew – (אברא כדברא). It means, "I create as I speak."
The distinctions I've shared above are more than just linguistic twists. 
If I was creating content for my email list, to get prospects into my funnel, you probably wouldn't be here. And I wouldn't have built a community of active and engaged leaders and coaches—mostly by word-of-mouth—for the past 15 years. 
Your words literally create your world. 
Love. Rich 
PS. Project Kairos just began but it's not too late to join me. You'll get the recordings of the calls you miss. Master Creating Clients in the last Project Kairos I will ever run. Sign up now, and you still get a gift ticket to my upcoming program: $100K Clients! 
PLUS, here are 4 more ways you can drastically increase your impact and your income: